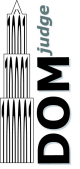 DOMjudge Online Demo
We have set up an online demonstration of the DOMjudge web interface, populated with data from a live contest.
What it does:
Provide an idea of the look and feel of the public, team and jury interfaces
What it doesn't:
Judge submitted solutions
Show commandline and daemon interfaces
Use
Check out the following interfaces:
Note: all passwords are equal to the respective usernames.
Data
The data in the system is reset to a known good state every night, so feel free to experiment. Please keep the system in a reasonable state though for other visitors that may come by before the reset. The data is from an actual contest, NWERC 2007, with some sensitive things removed; this includes all submission sources, so unfortunately, submission diff's do not show.
If there's something not working, or you've got questions, please contact us at admin@domjudge.org.